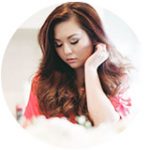 In 2012, a young stubborn girl was determined to teach herself how to make the very finicky yet beautiful and sweet morsels for her best friend's Wedding.
With no idea where to begin, she looked up recipes online and tried as many as she could before finding what she thought was the perfect one at the time.
With perseverance came successful attempts, the more she baked the better she got and she managed to surprise her best friend with a complete macaron tower.
Having a background in Multimedia design and a lot of love for all things creative, her favorite part of baking these French macarons was photographing them.
Of course, photographing macarons meant she needed to bake more, after realizing they were too sweet for her palette and possibly many others she experimented and created her own recipe.
After receiving great enthusiasm for her macarons from friends and family, Keegs and Things was born.